DarkSyde Acres Haunted House and Attractions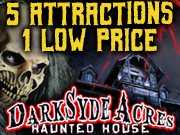 11375 Rowe Road
Jonesville, MI
Details
Average Review

Scare Factor

Very Scary

Appropriate For

Indoor attractions are recommended for 16 and over, outdoor attractions are Family friendly and fun for the entire family

Organization Type

Commercial / For Profit

Listing Categories

More Info

Wheelchair Accessible, Outdoor Event(s), Indoor Event(s), Covered Wait Area, Touching Not Allowed, Free Parking
If you are looking to visit a Scary Haunted House in Michigan, this Halloween Season, in the Michigan , Ohio , and Indiana , area, then be sure to stop by DarkSyde Acres. We not like your average scary Halloween house. With over 70,000 indoor square feet, Darksyde is one of the biggest and largest haunted attractions in the tri-state area. DarkSyde will Give you more scares for your dollar at every turn.
Darksyde Acres includes Hollywood style FX from award winning BodyBag Entertainment, guaranteed to give you more scares for your bucks! One Scary Location, 3 haunted house's, 1 Family Friendly Hayride, 1 Family friendly outdoor maze, plus Zombie Paintball . Thats right, 6 events in all, at one location, at 11375 Rowe road, Jonesville, Michigan. For 2013 this is the most talked about Haunted House in Michigan ! This is the Most Bang for your Buck this Halloween season.
From The RustHole, The Catacombs and the Dark Abyss ! This is the place that is stirring up news in Michigan, Indiana and Ohio! Be sure to check out our Zombie Paintball Massacre when you visit for a little Zombie shooting fun for the whole family - See more at: http://darksydeacres.com/#sthash.rJaopZLU.dpuf
Email Haunt Owner
All photos and videos within this listing are the property of DarkSyde Acres Haunted House and Attractions
worth the drive!!!

One of the best we ve been to in Michigan. A ways off the beaten track but well worth it. Lots to do,good prices, great actors, plenty of jumps and cool set ups. Very impressed. Would definitely go again!!

Posted 10/19/14

So scary you will slap your mother

They have it all, from zombies to crazy clowns and pirates galore. The only thing missing is the extra pair of undies you will need to buy after you go through any of the attractions.

Posted 5/22/14

I peed!

I peed myself. This place is creepy. Wonderfully creepy. We drove across state lines to go here. It was totally worth it! Will be driving 3 hours one way every year for this!

Posted 6/25/13

This place rocks!!! Rob and his crew are the best. Dont take MY word...find out for yourself.

Posted 6/25/13

Very enjoyable haunt!

We always head to Darksyde Acres Haunted House when we can. Every visit is an adreneline rush with new scares and attractions that make for a fun time. Well worth the trip to go there. Can't wait to see what they have come up with for this season! Darksyde is not for the faint of heart so be warned!

Posted 6/19/13

darksyde acers was awsome

I always have a great time t this haunted house..... its is ?the best hands down... will continue to go back in the years to come.... there is always something new an even more scary than ?the yearbefore other atmosphere is great an actors/ actresses really know how to push you to your limits in good an bad ways... great job to all!!!!

Posted 5/4/13

1 out of 1 found this review helpful

Fun Fun Fun for everyone!!

One of the most creative and unique shows around!! Very enthusiastic Cast that truly loves their job and some of the best diversion tactics I have seen. Check them out, one of a kind show!!

Posted 5/4/13

Love this place

Very scary place, doesn't run off of animatronics. It's an actual good old time scare!

Posted 5/2/13

Hanging on for dear life!

This is such a great place to get a spook in. I went with a friend of mine and I remember holding onto her for dear life as actors came out of every nook and cranny possible. Whenever someone wants to go to a haunted house I tell them to go to Darksyde Acres.

Posted 5/2/13

Amazing!

This place is amazing! Not for the faint of heart. You never know what is coming next. You think you are all good, and Bam they get you again. After it is over you don't know if you want to laugh or cry that you survived it!

Posted 5/2/13

amazing!

If you want the best scare for your dollars worth then darksyde acres is the best place around! The haunters are amazing and dedicated to their haunt and everyone that works there puts in thier hearts and souls into giving you the best experience possible. You really wont be dissapointed and you will most certainly want to come back once youve been there!

Posted 5/2/13

Zombies, pirates and a tranny...oh my

The headline says it all people! DarkSyde Acres is hands down the best haunted house in Michigan. There's a que line with creepy and massively entertaining scenes, zombies galore....and cage dancers....and one of them.....is not all she seems....color me embarrassed for oogling a woman who was a man who looked like a woman....yeah. Then the pirates, jumped up Christmas tree on fire....that's one set of lunatics you don't want to meet on a dark fishing pier. All in all....it was the scariest, funniest, most over the top (and did I mention freaky as all hell) haunted house I have even had the misfortunate pleasure to enjoy! Will Totally be going back for a second dose! (and bringing spare undies this time)

Posted 5/1/13

Darksyde Acres. Haunted Attraction A MUST!!

The most wonderful people work there. I have had the opportunity to meet most the people out there. Darksyde definitely pushes the bar for Haunted Attractions for any haunted attraction I have ever been too. Another world at Darksyde stepping into the deep dark and mysterious. is definitely and understatement. You say nothing can scare you??? Well you have yet to experience The Darksyde!!! That is Darksyde Acres Haunted Attraction. Wonder what's gonna be lurking around the corner or in a hallways or possibly under your feet or above your head.. Love th Family at Darksyde Acres Haunted Attraction!!!!

Posted 5/1/13

One of a kind Haunted House

DarkSyde Acres is one of the most unique haunts we have ever been too, the first time we went there I was amazed at the different approach taken compared to the numerous "cookie cutter" haunts I was used to in the past. Starting in the queue line, all the way through there is something to keep your interest (perhaps to distract) while all of the actors did their best to scare the crap out of you. The actors are very interactive and take their parts seriously pulling out all of the stops to scare, shock, and entertain you. We look forward to coming years, wondering what horrors will be unleashed every new season. Well worth the drive, no matter where you live....

Posted 5/1/13

Terrifyingly Terrific

I've been to SEVERAL haunted houses, in multiple states, and DarkSyde has been the only one to consistently have me jumping out of my skin. Too many of the others are cute and predictable...DSA will get you every time. Even if you go a second, third, or fourth time in one night. I honestly can say that I will be there every year, without a doubt. It's the best of the best, exceptional prices, and they even have kid friendly events throughout the year. Definitely worth checking out, at least once.

Posted 5/1/13

DarkSyde Acres Haunted House

My experience at DarkSyde was way to unbelievable for words. The atmosphere was friendly, yet terrifying. The actors were amazing and so were the decorations. I went with my best friend and we just couldn't get enough of it! I highly recommed it, but it is NOT for the faint of hearted.

Posted 5/1/13

Bring your extra undies!!

I took my 15yr old n her friend, they were scared the entire time in all 3 houses, A few times i was spooked pretty darn good too!! Awesome costumes, delicious refreshments available, super hot bonfire etc etc... Was worth the 1.5hr drive and the $106.00 ticket i got for speeding when leaving as the kids & I were rehashing what we just lived through and not paying attention!!! :) Can't wait to come back!!!

Posted 5/1/13

best time ever

best haunted house we have ever been to ,great times good fun we will be going again this year

Posted 9/17/12

Best All Around Hands Down!

My brother and I went out one dark and spooky night. Even the ride out was creepy. I love the fact that it is in the middle of no where. The place gives you the creeps from the parking lot to the end. I love haunts with lots of interaction and not so many pop out animatronics. So many real people to jump out and get you. Will be going again this year for sure...may have to bring some fresh undies for the ladies LOL.

Posted 9/12/12

an absolute blast from beginning to end!!!

this is hands down the best haunted attraction i've been to ever. last fall my husband and i made the trip out there and it was an awesome experience from beginning to end. I loved the fact that they had entertainment even while you wait in line for the haunted house. Even the location was creepy, theres nothing quite like driving down a spooky old dirt road to a massive haunted house! then when you get in to the haunt it was one scare right after another, the actors are awesome and the scenery and costumes were amazing! i cant wait to see what the guys out at Darksyde Acres have in store for this Halloween!!!

Posted 9/8/12
All information on this page was submitted to Michigan Haunted Houses and was believed to be accurate at the time it was posted. Please report any inaccuracies
here
.