About MichiganHauntedHouses.com - Your Guide to Halloween in Michigan
Mission Statement
Dedicated to providing Michigan thrill seekers with up to date info about the best local Haunted Attractions, Escape Games, & Fall Fun. and Halloween Happenings across the state.

About Us
Since 2011, MichiganHauntedHouses.com has been dedicated to helping local haunt seekers find Haunted Attractions and Fall Fun Happenings each Halloween Season. With over 190,000 Michigan residents and local tourists turning to MichiganHauntedHouses.com each Haunt Season, MichiganHauntedHouses.com is by far the Mitten State's most popular Haunted House Directory & Halloween website.
LOCAL Haunted Attractions & Fall Events
Haunted Attractions...................25+ (Haunted Houses, Haunted Hay Rides, Haunted Corn Mazes, Spook Walks, & more)
Fall Attractions / Family Fun.......50+ (Hayrides, Mazes & Corn Mazes, Pumpkin Patches, & more)
Other Events & Attractions.........20+ (Zombie Shootouts, Escape Games, Ghost Tours, Halloween Parties, & more)
Real Haunt Directory.................90+ (Our Real Haunted Places Guide features an in-depth look at Michigan's most legendary real haunted places, where there have been numerous reports of paranormal activity!)
Other Content..........................Head over to the Michigan Haunted Houses Blog to check our our Articles, Blog Posts, & Press Releases for the scoop on the latest Haunt News, Halloween Happenings, and other exciting seasonal trends, traditions, and fun!)
Haunt & Farm Owner Interviews.....................Get an inside peek at local attractions by checking out our "Haunt Owner Interviews", which give you an in-depth look at what local Haunted Attractions, escape games, and Farm Fun Events have in store for the upcoming Halloween Season! Interested in giving locals & tourists an insider's look into your Haunted Attraction this Season? Email Cait to find out more about setting up an Interview about your Haunted Attraction, Escape Game, or Farm Fun Event this Halloween Season!

Our 2016 Stats
Visitors....................................190,000+
Page Views...............................510,000+
Opt-In e-Newsletter Subscribers...............1,500+
Reviews (User Submitted)..............1,000+
Michigan Haunted Houses Facebook Followers.................... 31,000+

Associations
MichiganHauntedHouses.com is proud to be a member of the following organizations: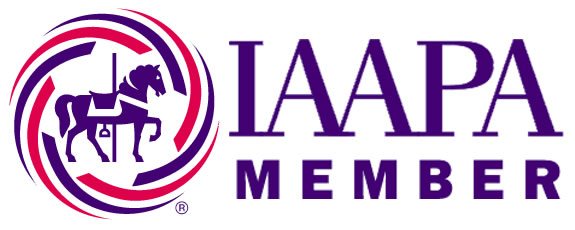 Media Partners
Over the years, MichiganHauntedHouses.com has built a reputation as a trusted resource for all things haunted, and numerous local area news outlets (including the Patch.com & The Tri-County Times) entertainment websites, and online & print fun guides use our data as their official Haunted House Guide & Search Engine. If you are affiliated with a radio station, newspaper, magazine or other Michigan media outlet with a substantial following, we may be interested in adding you to our growing list of media partners. Please contact our Content Director, Cait Russell, at 888-228-5265 ext. 856 or email us to find more about our Media Sponsorship Opportunities!

Haunt Owners and Farm Fun Event Owners
MichiganHauntedHouses.com is the premier Media Outlet for Haunts, Farms, and Local Halloween Attractions trying to reach the Michigan Community. Make the most out of this Halloween Season by helping Haunt Owners to connect with Michigan's Haunt Seekers.

Find out more information about listing with us. Find links & Widgets to get your haunt more reviews and post our very popular testimonials widget on your site to display some of the great things people are saying about your haunt. Visit our Michigan Haunt Owners Section to make changes to your listing.
What Our Clients Are Saying
MichiganHauntedHouses.com works with many of Michigan's biggest haunts, as well as smaller productions, and charity fundraiser haunted events - whether it's your first season or your thirtieth, we can help you make this your best season yet - here's what some of our clients have to say about working with us:
"We decided to advertise our haunt on the MichiganHauntedHouses.com website last year, and as we polled our customers we found that many of them had discovered us through this site [MichiganHauntedHouses.com] which prompted them to come see us for the first time. The advertisements on this site are well done and the staff are very helpful." - Lassie Wallis, Manager & Operator, The Terrorfied Forest, Pinckney, MI. Client since 2012.
"Michigan Haunted Houses excels at providing an individualized experience for an advertiser. At Scarefest Scream Park, we have several special events that they were very willing to help us promote with written content and social posts that have been more successful than anyone had expected. Due to strategic online advertising with services like this, we were able to double our event attendance from the previous year. We were not sure what to expect when we started advertising with Michigan Haunted Houses, but after only one season with them [MichiganHauntedHouses.com], they have won customers for life." - Lauren Marino, Manager, Scarefest Scream Park, Lenox Township, MI. Clients Since 2016.
"I've been doing my haunted house for 10 years. Had the worst year ever in 2014. I was ready to quit, then in 2016 we joined Michigan Haunted Houses, and 2016 was our best year ever! [We had] lots of new patrons. I highly recommend Haunted House Media." - Scott Greenwell & Marcel Marcolina, Owners, Scary Scott's Haunted House, Livonia MI. Clients Since 2016.
Connect & Share
Link To Us – Link to Michigan Haunted Houses from your site, blog or social networks and help your followers find the best local haunted attractions this Halloween Season!

Get your FREE Bumper Sticker (Coming Soon!)

Shop at our Online Store (CafePress Store Coming Soon)

Widgets (Haunt Owners - Show Off Your 5 Star Reviews with our Haunt Review Widget!)
Contact Us
General Questions, Comments & Feedback - Call 888-228-5265 ext. 856 or fill out our contact form to get in touch.
Submit a News Story - Have an idea for a Halloween or Haunt-related story or a news tip? Let us know!
Submit a Press Release - Have big news to share? Email us your Press Release to get the word out.

Partnership Opportunities - Need help getting the word out about an upcoming special event, charity, or organization? Email us about our Media Partnership Program!

Advertising Information - Have a local Haunt or Halloween Attraction? Click Here to find out more about Advertising Your Haunted Attraction, Escape Game, Fall Farm Fun Event, or Other Halloween Event on MichiganHauntedHouses.com.
Technical Issues & Inquiries - To report a broken link, outdated event, or incorrect information, click here.

Michigan's Halloween Entertainment Guide™