Climb Aboard The Edson Incident this Halloween Season and Take on Five Levels of Terror!
Home » Blog » Michigan Haunts: An In Depth Look
August 1, 2017 By Haunt News & Press Releases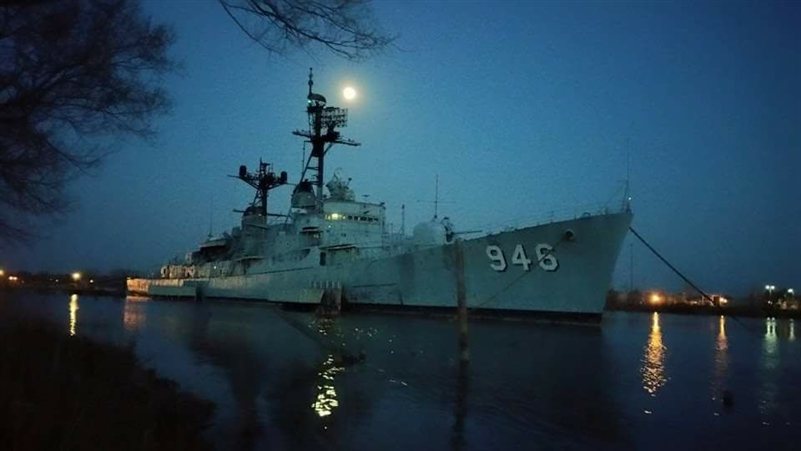 The Ship Under a Full Moon
MichiganHauntedHouses.com recently sat down with Jodene Gifford of The Edson Incident, to discuss what's new at The Edson Incident for the 2017 Halloween Season! Located in Bay City, The Edson Incident is a unique Haunted Attraction that is located aboard the USS Edson. Venture through five different levels of terror and enjoy a different type of scare this Halloween!
What's new at The Edson Incident for 2017? Do you have any new rides, attractions, or special features that Haunt Seekers should know about?
We have some new props and changed some twists and turns around the ship for 2017!
What are you most excited about for the 2017 Halloween Season?
Last year was our first year and it was such a great success! We can't wait for 2017 Halloween Season! We are excited to scare you!! We have a unique haunt that will scare you in a different way!
What differentiates The Edson Incident from other local haunts in Michigan?
We are the only haunted attraction aboard a Naval Ship in the State of Michigan. We are five floors of terror and encompass the entire ship in our haunt. It's not for the faint of heart. We will scare you!
How long has The Edson Incident been in business? Can you tell us a bit more about The Edson Incident's history?
This is our second year. We had a fantastic first year in 2016 and look to continue for many years to come!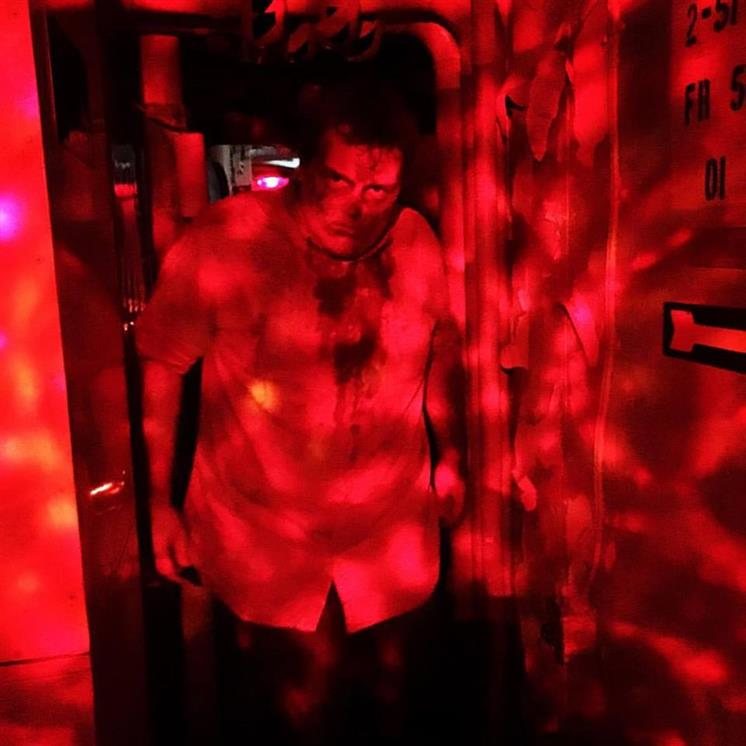 What's your favorite experience since opening The Edson Incident?
All the people we have met in regard to our volunteers and guests that have come to our haunted attraction. It's really the people who make this the success it is... whether you are a haunter or one of the haunted.
How long is a typical haunt experience at The Edson Incident from start to finish?
The haunt encompasses five decks on the ship, including the engine room. You are climbing up and down different levels of scariness and it usually takes about 20-25 minutes to get through the whole haunt.
On a scale from 1 to 10, how scary would you say The Edson Incident is? Why?
I would give it a 10! The ship is dark and spooky enough at night without even a haunt taking place. Add in the fact that it's already truly haunted and then add props, people, lights and a themed haunt, you have one scary ship.
Does The Edson Incident's property have any real haunted history? Do you have a spooky encounter you'd like to share?
The USS Edson is considered haunted. It's been featured on SyFy's Ghost Asylum in 2016 and there are regular, monthly haunted tours given in the off season that the public can participate in. Several of our volunteers have had experiences of apparitions of deceased naval personnel while on the haunt itself. In addition, the Edson was involved in a classified UFO encounter in the 1960's, which is the basis of our haunt.
What inspired you to open up a haunted attraction? What's your favorite part of the business?
Our group who runs the haunt, have always loved Halloween and have wanted to do a haunt for years. When given the opportunity to run the haunt on the ship, we jumped at it. Our favorite part is the making and creating of a storyline that scares, thrills and excites our guests.
How has new technology (i.e. animatronics, special props, etc) helped you to enhance The Edson Incident?
Most of our 'scares' are our volunteers. Props and technology is great, but a great scare is using your people in the best way possible to scare our guests. Strategic lighting, sounds, fog and some animatronics enhance the experience, but our volunteers are what scare you the most. They are creepy..trust us!
Can The Edson Incident accommodate large groups? How many people can experience The Edson Incident together as a group?
Because of the size of the ship (it's HUGE!) and the number of stairwells that you traverse, we usually prefer 2-4 people per group, however, we will allow up to 6 if requested. By keeping the groups small, you get the most scare for your time.
Does The Edson Incident offer any special deals, discounts, or coupons?
We do offer ticket discounts for large groups over 12. Please refer to our website for more information.
Anything else you'd like to let us know about The Edson Incident?
This ship scare is unique. There is no other like it in the state. Experience a one of kind haunted attraction aboard a naval ship and truly be scared!