Prepare For Horror Aboard Manistee's Ghost Ship This Halloween Season!
Home » Blog » Michigan Haunts: An In Depth Look
September 11, 2021 By Haunt News & Press Releases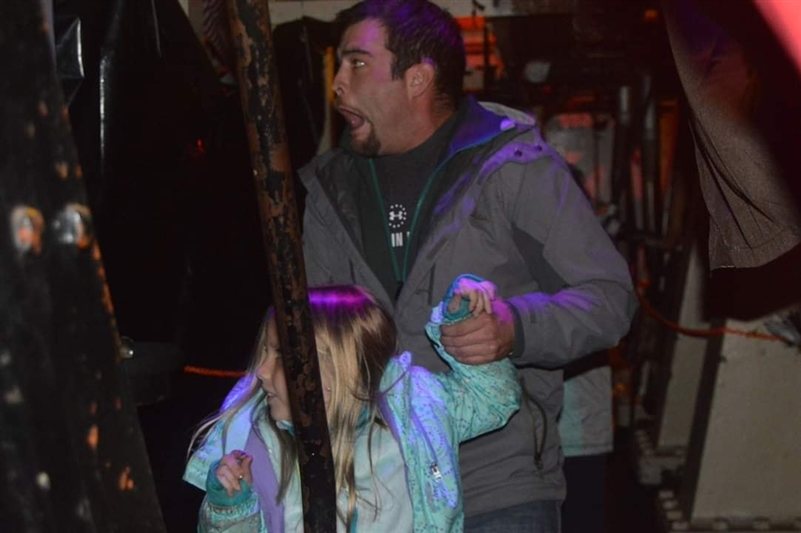 Customer getting their monies worth
MichiganHauntedHouses.com recently sat down with Kara Holcomb of Manistee's Ghost Ship, to discuss what's new at Manistee's Ghost Ship for the 2021 Halloween Season!
What's new at Manistee's Ghost Ship for 2021? Do you have any new rides, attractions, or special features that Haunt Seekers should know about?
Yes. But, I cant tell you. However, no bones about it, it will be easily noticed by all visitors.
What are you most excited about for the 2021 Halloween Season?
Less restrictive health department mandates! Operating last year during a pandemic was a truly unique experience. It really took a lot more thought to put together a haunted house where all the traditional haunted house caveats were "no go" due to social distancing. Tight quarters, jump scares, dark mazes. Those we all "axed" due to the pandemic. We had to shorten up our route and add sanitizing stations throughout, as well as have a dedicated team sanitizing the entire haunt in between groups.
It will be exciting to go back to what we know and do best!
What differentiates Manistee's Ghost Ship from other local haunts in Michigan?
Well, we are on a carferry. I am pretty sure that floating helps us stand out statewide AND nationwide.
How long has Manistee's Ghost Ship been in business? Can you tell us a bit more about Manistee's Ghost Ship's history?
On the boat, 20 years. But prior to that, the initial stages of ghostship took place in the old Benzie High School building.
What's your favorite experience since opening Manistee's Ghost Ship?
We really enjoy seeing grown men shriek like a little kid. It's a high compliment when people pee themselves or request to be taken off the boat because they are too scared to complete it


How long is a typical haunt experience at Manistee's Ghost Ship from start to finish?
Roughly 45 min give or take. Some people get so scared they end up prolonging the experience due to immobilizing fear. On the completely opposite end, some people are so terrified they bolt through in 15 minutes.
On a scale from 1 to 10, how scary would you say Manistee's Ghost Ship is? Why?
Around a 7.5 or 8. But fear is subjective. Sometimes we will purchase a prop we consider to be a worthy investment and it gets minimal scares, whereas something like a guy in a ridiculous Burger King costume elicits terror from EVERYONE.
Does Manistee's Ghost Ship's property have any real haunted history? Do you have a spooky encounter you'd like to share?
Several paranormal groups have hosted investigations onboard the SS City of Milwaukee and they have all said they detected activity. Our Executive director has been involved for about 17 years working here during both ghostship and the regular season of the SS City of Milwaukee, and she has never seen anything spooky. The same can be said for our board president. However one of our staffers swears on a bible he heard a male voice calling his name on a night he was at the boat alone.
What inspired you to open up a haunted attraction? What's your favorite part of the business?
The ability to raise funds in a unique and fun way.
How has new technology (i.e. animatronics, special props, etc) helped you to enhance Manistee's Ghost Ship?
It's given us the opportunity to operate without needing so many volunteers every night. Originally it took a minimum of 25 people per night, and now we can get by with about half that. That being said, we are always looking for volunteers!
Can Manistee's Ghost Ship accommodate large groups? How many people can experience Manistee's Ghost Ship together as a group?
we like to keep groups to 10 or under so they can truly enjoy the experience and be able to see what's going on around them.
Does Manistee's Ghost Ship offer any special deals, discounts, or coupons?
Yes. Come through a second time the same night, pay half price.