Thrills & Chills Galore in Store at this Year's Haunted Forest in West Bloomfield!
Home » Blog » Michigan's Best Weekend Events, Michigan Haunts: An In Depth Look, MichiganHauntedHouses.com News and Updates
September 23, 2019 By Haunt News & Press Releases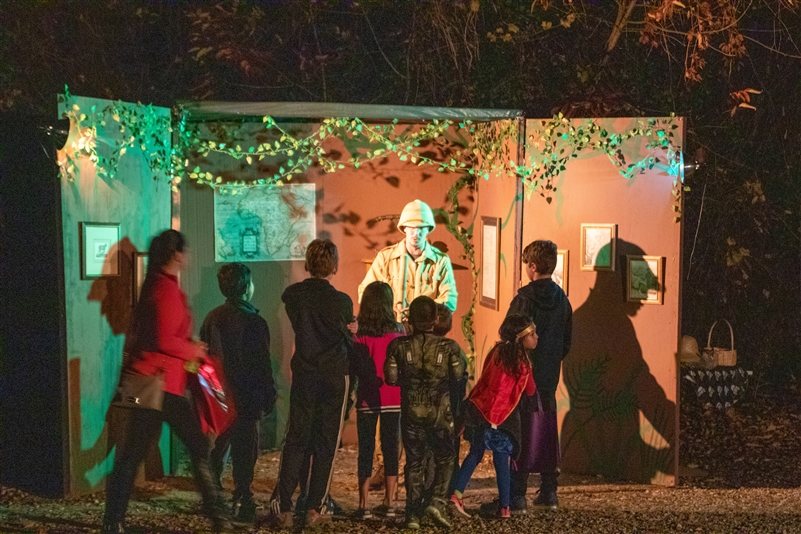 Our event features a walk through a forest trail. The trail is filled with exhibits operated by theater actors.
MichiganHauntedHouses.com recently sat down with Thomas Knuth of The Haunted Forest, to discuss what's new at the haunted attraction for the 2019 Halloween Season!
What's new at The Haunted Forest for 2019? Do you have any new rides, attractions, or special features that Haunt Seekers should know about?
The Haunted Forest has been a long-standing event at our West Bloomfield park each October. This season we are moving the event to our newest location in Rochester, MI. The event will be held at TreeRunner Adventure Park at Oakland University. Most of the actors in this year's Haunted Forest are actually Theater students from the Theater Department at Oakland University. This is a great partnership.
What are you most excited about for the 2019 Halloween Season?
The grounds for the Haunted Trail are in a different location. The terrain is much more suited to our event and gives our exhibits much more room.

We have added many more lighted attractions to the event to keep the theme closely aligned to children and families.

We are adding an old-time cowboy set that is certain to enchant all guests along with a Frankenstein Karaoke exhibit where Frankie sings for the attendees.
What differentiates The Haunted Forest from other local haunts in Michigan?
Our event is truly a charming affair. The Haunted Trail is spooky, but not gory. Our actors perform at each exhibit along the trail and want guests to interact with them. It's fun for the whole family.

The end of our trail has a giant pumpkin hunt where all guests will be able to find a pumpkin of their own.

Guests 7 and older are able to pair their Haunted Forest walk with some aerial climbing and zip lining. There are two packages that combine climbing with the Forest walk. Choose either Haunt & Climb or Value Pack options for these deals.
How long has The Haunted Forest been in business? Can you tell us a bit more about The Haunted Forest's history?
The Haunted Forest started in 2014. Our company has operated haunted trails in West Bloomfield and Frankenmuth, MI. In 2017 we closed the Frankenmuth haunt and consolidated all exhibits. This bigger and better event has created more fun and action along our trail.
What's your favorite experience since opening The Haunted Forest?
We have some actors that return every year. We have built exhibits around their talents and dramatic flair. This is helpful, but each season we do bring in new actors with amazing talents. With Theater students from the University this season, we are very excited to see their skill in action.
How long is a typical haunt experience at The Haunted Forest from start to finish?
30-40 minutes, depending on how fast you walk and if you interact with our performers. If you just walk right through it, you will not get the full experience and your visit will be brief.
On a scale from 1 to 10, how scary would you say The Haunted Forest is? Why?
3 out of 10. Some of our costumes are a bit scary, but the actors work hard to create an enchanting experience rather than a horror show.
Does The Haunted Forest's property have any real haunted history? Do you have a spooky encounter you'd like to share?
None at all unless you feel the Dodge family walks the campus at night.
What inspired you to open up a haunted attraction? What's your favorite part of the business?
This is a fun event. We get the benefits from drawing new eyes onto our business and giving people a chance to climb and zip line.
How has new technology (i.e. animatronics, special props, etc) helped you to enhance The Haunted Forest?
Not really. Our exhibits are hand-built and the entertainment comes from the performer's ability to put on a show and act.
Can The Haunted Forest accommodate large groups? How many people can experience The Haunted Forest together as a group?
We have, at times, working with groups. Because our attraction is a linear trail, it is difficult to get large groups through. We have to break all big groups into smaller units to participate. Group discounting is available.
Does The Haunted Forest offer any special deals, discounts, or coupons?
Our greatest discounts are with packages. The Haunt and Climb allow guests to climb and zip line before their Haunted Trail walk. The Value pack option gives customers a walk away ticket for climbing at either the Oakland or West Bloomfield parks that is valid now through season end 2020.
Anything else you'd like to let us know about The Haunted Forest?
This is truly a charming affair. Dress for the weather and take lots of photos!