Find Out What's in Store this Halloween Season at Hush Haunted Attraction!
Home » Blog » Michigan's Best Weekend Events, Michigan Haunts: An In Depth Look, MichiganHauntedHouses.com News and Updates
September 5, 2017 By Haunt News & Press Releases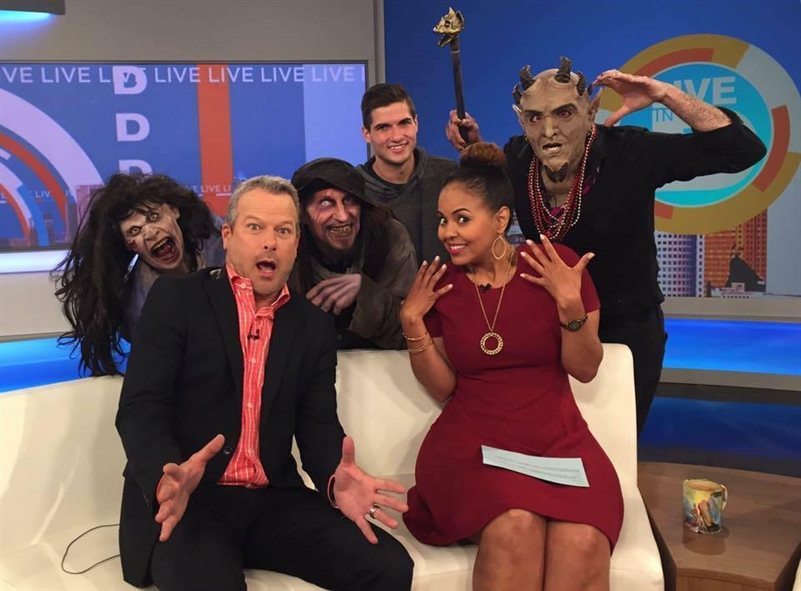 Members of the HUSH Team were featured on Live in D! on Channel 4 News in 2016
MichiganHauntedHouses.com recently sat down with Cody Bailey of Hush Haunted Attraction, to discuss what's new at Hush Haunted Attraction for the 2017 Halloween Season! Located in Westland, Hush Haunted Attraction has expanded for this year and is featuring tons of new thrills and chills!
What's new at Hush Haunted Attraction for 2017? Do you have any new rides, attractions, or special features that Haunt Seekers should know about?
At HUSH we've become known for building a completely new show each season that is a continuation of our story line from our first season. We've continued that tradition, yet again for 2017, expanding our footprint and adding even more terrifying scenes and characters.
What are you most excited about for the 2017 Halloween Season?
We've steered away from large automated scenes/scares until now! We've created several new scenes where you'll see items drop from 20 feet above your head, floors will fall out beneath you and that's just the distraction from the main attraction! OUR Actors! We're bringing some of the most interactive and intense scenes ever to HUSH this season.
What differentiates Hush Haunted Attraction from other local haunts in Michigan?
We have become known for having a highly detailed story line that creates an experience for our guests by immersing them into our reality. Through our extremely talented team of Hollywood scenic designers and prop makers you'll experience scenes/rooms that belong in a major motion picture. While the scenic aspect is key and important to us, we still believe our intent focus on an actor driven experience separates us from the competition. At HUSH, you'll find live actors around each and every corner, creating a non-stop, action packed experience.
How long has Hush Haunted Attraction been in business? Can you tell us a bit more about Hush Haunted Attraction's history?
HUSH started in 2013, as a proof of concept venture. We had an overwhelmingly positive response and have quadrupled in size since then and built our brand into a known quantity in the region winning numerous national awards and news coverage.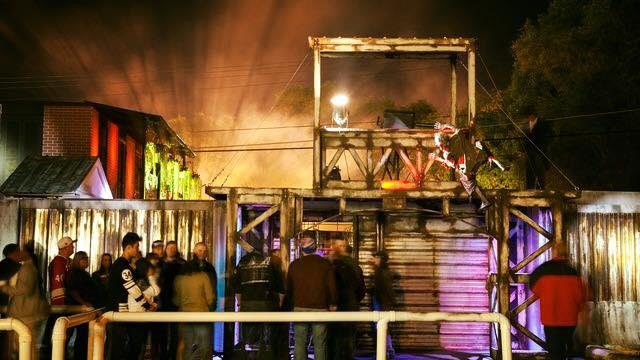 What's your favorite experience since opening Hush Haunted Attraction?
The people I've met. From our guests to the over one hundred people who have or still work for me. The stories I hear about how their experience at HUSH helped them become more comfortable in their own skin, or changed their life in many ways, it truly is the joy and honor of a lifetime to be able to help provide that type of safe, family oriented space.
How long is a typical haunt experience at Hush Haunted Attraction from start to finish?
We anticipate the haunt being 18-25 minutes for the 2017 season. We have seen 5-6 hour wait times in the final weeks of the season as well.
On a scale from 1 to 10, how scary would you say Hush Haunted Attraction is? Why?
8. Using a large crew of actors in a smaller space we produce a high-intensity, action-packed experience with horror lurking around every corner and even from above (or below)!
Does Hush Haunted Attraction's property have any real haunted history? Do you have a spooky encounter you'd like to share?
Not to our knowledge!
What inspired you to open up a haunted attraction? What's your favorite part of the business?
A strong passion for the industry/season, coupled with the desire to build something never before scene and bring the Disney level of quality and experience to the Michigan Haunt Scene. My favorite part of the business is seeing all the kinds of people/groups that come out for such a short period of time to pay to be scared! It's thrilling that so many people are still leaving the house/technology to experience realistic horror/shows.
How has new technology (i.e. animatronics, special props, etc) helped you to enhance Hush Haunted Attraction?
We've used technology in terms of automation sparingly, focusing instead on live thrills. But for the 2017 season, we're changing all of that and have built some seriously amazing and new scenes that use automation and technology to enhance the guest experience while still having live actors drive the scare.
Can Hush Haunted Attraction accommodate large groups? How many people can experience Hush Haunted Attraction together as a group?
We prefer sending groups into the haunt in groups of 4-6. But we've had plenty of large groups from corporations to colleges visit HUSH, they just can't all go through together at once, because what's the fun/scare in that?
Does Hush Haunted Attraction offer any special deals, discounts, or coupons?
We have a special for opening night since it is our fifth season where tickets are just $12, but must be bought in advance. We also have some coupons/deals out there where you can save $2-$3 per ticket as well depending on the day.