Heart-Pounding Scares Await this Halloween Season at Hinterland Haunted Attraction!
Home » Blog » Michigan Haunts: An In Depth Look, MichiganHauntedHouses.com News and Updates, Michigan Haunt News
August 25, 2018 By Haunt News & Press Releases
Hinterland Haunted Attraction
MichiganHauntedHouses.com recently sat down with Matthew Stehlik of Hinterland Haunted House, to discuss what's new at Hinterland Haunted House for the 2018 Halloween Season! Located in Ashley, this haunted attraction has been preparing all year to terrify thrill seekers. Don't miss out on what's in store this year!
What's new at Hinterland Haunted House for 2018? Do you have any new rides, attractions, or special features that Haunt Seekers should know about?
2018 is a big year for change here at Hinterland! Over 80% of the haunt has been changed from the previous years. We have a lot more "engaging" scenes for our guests, and some pretty awesome special effects that are new for this year!
What are you most excited about for the 2018 Halloween Season?
We are excited for our guests to see our new haunt for 2018!
What differentiates Hinterland Haunted House from other local haunts in Michigan?
We believe a well designed scene can make way for a great scare, so we make sure to put a lot of care and detail into our scene and set planning. That includes the details, the lighting, soundtrack, and even the smells! For example, much of the music played here has been composed by our team! We definitely try not to overlook any details.
How long has Hinterland Haunted House been in business? Can you tell us a bit more about Hinterland Haunted House's history?
2018 will be our second season for being open in October. However, we first opened our doors during the 2014 Christmas season with the show entitled "A Holiday Fright". It was for the Village of Ashley Country Christmas, the time when our small hometown of Ashley welcomes the arrival of the 1225 Pere Marquette North Pole Express. It was a successful start, and we welcomed hundreds of unexpected families each weekend! Who would think of a haunted house in a Christmas town?! Finally, in 2017 it was decided to open for October.. thus Hinterland was created.
What's your favorite experience since opening Hinterland Haunted House?
As a whole, my favorite is sharing our creations with our guests. We love seeing their reactions!
How long is a typical haunt experience at Hinterland Haunted House from start to finish?
Excluding wait times, the experience is typically 10-13 minutes. But every group is different of course.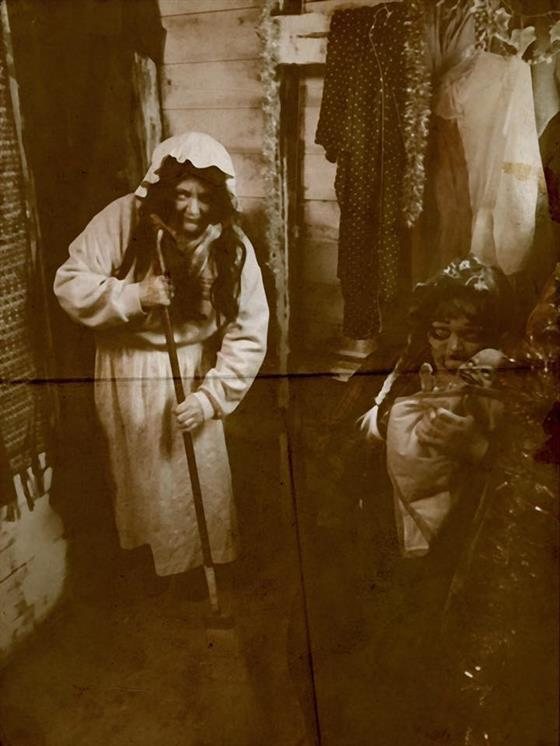 On a scale from 1 to 10, how scary would you say Hinterland Haunted House is? Why?
That's a tough question! I would say a high 8 to 10 for a lot of guests. But everyone is different!
Does Hinterland Haunted House's property have any real haunted history? Do you have a spooky encounter you'd like to share?
Yes! Shadows, orbs, and full figures have been seen here by our crew. And we constantly get weird chills and vibes in parts of the building. In fact, most recently, we caught a show figure and strange light in a few photos!
What inspired you to open up a haunted attraction? What's your favorite part of the business?
I have always loved Halloween, its something I live and breath everyday. My favorite part is the design and creation phases, it really allows me to express my creativity.
How has new technology (i.e. animatronics, special props, etc) helped you to enhance Hinterland Haunted House?
Here at Hinterland we have a good blend of "old school haunting" with new technology. New technologies and animatronics allows us to meet the growing demands of our guests. The new generations are being desensitized to scary things, and technology allows us to go above and beyond of what is expected to create a memborable horror experience.
Can Hinterland Haunted House accommodate large groups? How many people can experience Hinterland Haunted House together as a group?
We have a max group policy of 5, this allows everyone to have a good experience.
Does Hinterland Haunted House offer any special deals, discounts, or coupons?
At the moment no, but offers will soon be advertised on our social media accounts!
Anything else you'd like to let us know about Hinterland Haunted House?
Be sure to like us on Facebook and spread the word! And be sure to come check us out!