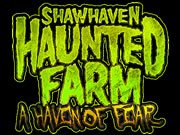 Fear surrounds the Farm. All 140 acres have been lost onto a haze of despair, since the dark years when the crops and animals were lost to a devastating invasion of bugs. Fear had engulfed all the grounds.
Local people have tried to face their fears on the Wagons of Fear. Some exit safely and unchanged only to be lost into the darkness of despair with time. Others try to make the trip through the Dead Maze to the next town only to join the Zombies that linger within the corn.
A new darkness has covered the Farm and it surrounds Samara's Boarding House. It's the last place to try if you're on your way to a new life, it'll be a new life you never expected. People check in but few check out.
ATTRACTIONS
SAMARA'S RETIREMENT HOME FOR THE DEAD
Tour Samara's Retirement Home. We keep your dead, better our house than yours. Beware when you visit their rooms or the recreation room. Stroll through the garden of shadows but be careful you may join them.
WAGONS OF FEAR
Fear over takes many as they try to pass through the woods. Stories of mad men and the undead have been passed down for years. The darkness of the fields and woods closed in on those that have entered and engulfed their minds, never to release them of the despair they have found or has it found them?
THE LAST RIDE
The Last Ride is a burial simulator. Climb inside the casket and there, in total darkness you get the experience of your life, your death. A special stereo sound track plays to you in the darkness, built in air rams move the casket in sync with the sound track. Enjoy your Last Ride to the cemetery and try on for size your final resting plot.
ESCAPE ROOMS
Choose between 3 different escape rooms or do all of them. You will have 3 minutes to find the secrets and solve the puzzles to free yourself from the room. Challenge yourself and friends with a test of your wits and if you make it out win the prize.
CORN MAZE
Enjoy a unique experience in the Corn Maze with its twisting & turning trails. There's nothing scary in this Corn Maze except maybe who you take with you! Flashlight Maze Run starts at dusk so be sure to bring your flashlight or chance getting lost, but don't worry we will find you when we combine the corn.
Hours of Operation:
Ticket sales start at 7:30 pm and stop promptly at 11:00 pm
Admission Costs:
Haunted Events: $18: Samara's Retirement Home for the Dead $18: Wagons of Fear $30: Combo Ticket - 2 attractions (save $6) Non-Haunted Night Events: $5: Escape Room (per person per room) $7: Corn Maze $30: Corn Maze Family Package (up to 3 kids and 2 adults)
Saturdays and Sundays in October we have a corn maze, pumpkin patch, and fun valley open. Come an enjoy our 8 Acre Corn Maze! Get lost with your friends or family. Free tractor-drawn wagon rides to pumpkin patch, to pick out that perfect pumpkin for your family. Fun valley is our large play area with over 10 fun activities to do.

Saturday 12pm to 6pm and Sunday 1pm to 6pm
COVID-19
| | |
| --- | --- |
| | Some locations may have last minute updates due to changing circumstances. Please visit the attraction's website and/or social media before going to double-check that they are open. |
All photos and videos within this listing are the property of Shawhaven Haunted Farm
Best place ever

The haunted house is the best. The actors work every hard and really scare the pants off you and make you jump and sometimes cry even if your tough. The woods have a very eerie feel because you dont know what will happen next because it is pitch black. It is a must see attraction and they also have fun activities for the little ones. Check it out for yourselves. Are you ready for a scare? They will test your fears.

| | |
| --- | --- |
| Scare Factor: | |
| Fun Factor: | |
| Haunt Value: | |

Posted September 2020

1 out of 1 found this review helpful

Email Verified

North Carolina native

I adore this place. The owner's are such pleasant people who really love scaring their customers.

| | |
| --- | --- |
| Scare Factor: | |
| Fun Factor: | |
| Haunt Value: | |

Posted September 2019

Dead maze was superb

I went there with my family and we had a wonderful time. We were impressed with the Christmas light show. The farm has scenes recreated to create nightmares. There were three attractions for those who live to face the fear. You can also check out its pumpkin patch and the corn maze during the day which of less horror. It is certainly a good place to hangout with family and friends. There is something for all age group. The best I liked is the dead maze. We had good guidance on how to go about all the other activities so we did not miss any. Great time, good job.

| | |
| --- | --- |
| Scare Factor: | |
| Fun Factor: | |
| Haunt Value: | |

Posted November 2018

1 out of 2 found this review helpful

Dead maze is full of grotesque zombies

Went to Shawhaven with my family. The boarding house was designed to freak you out. The dimly lit hallways and dark corners have an eerie air to it. You can't anticipate the scares, and it comes from all sides. My wife screamed and jumped few times. The wagon ride was equally creepy. The dark woods could creep you out. The dead maze had some of the grotesque zombies screaming at you. We lost our way a bit and ended up in front of more scares. Kids were scared cold. I also tried out the last ride in a casket. Overall, it was lots scary and fun. Ticket rates were reasonable. I will come again.

| | |
| --- | --- |
| Scare Factor: | |
| Fun Factor: | |
| Haunt Value: | |

Posted November 2018

2 out of 2 found this review helpful

Email Verified

Creepiest setting and scary actors

Spread across 140 acres and has lots of scare locations. We chose a handful of them and it was quite entertaining. The haunted hayride was fabulous with some decent scares, props, professional actors and special effects. The boarding house had some creepiest setting and scary actors. The dark corners at places hid few bone-chilling scares that made me jump. The last ride in a casket was one of an experience. It was fun to experience it when alive. I and friends also tested the lighter chicken wagon ride. It was a welcome break from the horrors we saw. Recommend this place.

| | |
| --- | --- |
| Scare Factor: | |
| Fun Factor: | |
| Haunt Value: | |

Posted November 2018

1 out of 1 found this review helpful

Good place to visit with family

I and kids visited the farm. The farm was kid friendly and clean. They enjoyed petting the animals. I wanted to do last ride, but backed off in the last moment. The kids loved the chicken wagon ride. I chose it owing to its lower scare factor. The corn maze was fun too. Special mention to the delicious hot choco. Entry fee was reasonable, if not exactly cheap. Next time, I would like to check out the other events that I missed out.

| | |
| --- | --- |
| Scare Factor: | |
| Fun Factor: | |
| Haunt Value: | |

Posted October 2018

1 out of 1 found this review helpful

Email Verified

Great scare for a good price

Very nice staff, and the workers are very good at scaring; sometimes people won't be there but if they aren't in there spot they will pop up in somewhere you don't expect them to be.

| | |
| --- | --- |
| Scare Factor: | |
| Fun Factor: | |
| Haunt Value: | |

Posted October 2018

Email Verified

Nice place for a family outing

A nice place for a family outing. You can plan to spend a day there with picnic spots in the farm. Venturing into the pumpkin patch and the corn made was fun. It was certainly light hearted and the actors were also funny. In the evening you could check out the haunted areas of the farm. There is an interesting wagon ride which is filled with fear. The dead maze was filled with zombies. The haunted house was amazing and you will be terrified once inside. Superb, will recommend this place.

| | |
| --- | --- |
| Scare Factor: | |
| Fun Factor: | |
| Haunt Value: | |

Posted October 2018

Fun and scary

It was fun with friends in the farm. Fun and scary, there are loads of zombies and other beasts that come alive in the dark hours. The actors were professional and had their makeup and costume spot on. Looked very real and that made us feel the terror. There were props that make you screech. The scares were detailed and you could never guess from where it will hit you. The best was the haunted house. Felt this was scariest. The wagon ride was interesting and the dead maze was spine chilling. Definitely recommend this for all.

| | |
| --- | --- |
| Scare Factor: | |
| Fun Factor: | |
| Haunt Value: | |

Posted October 2018

Good quality scares

The farm had cute lambs and I just couldn't stop petting them. The place was really huge. I visited three of them. The boarding house was the scariest. It had creepy hallways and interiors, and many good quality scares. Dead maze virtually freaked me out. Gory zombies chased me in the maze and I ran screaming like there is going to be no tomorrow. My BF found my antics funny and he was teasing me all the way back home. The third one was last ride, and it was a whole new experience to be in a casket. Hot choco was awesome too. We will come again to try out the other events.

| | |
| --- | --- |
| Scare Factor: | |
| Fun Factor: | |
| Haunt Value: | |

Posted September 2018

Email Verified

great time

been here more then onces had a great time everytime

| | |
| --- | --- |
| Scare Factor: | |
| Fun Factor: | |
| Haunt Value: | |

Posted September 2018

Email Verified

Professional haunters

I came here with my team of friends and the haunted attractions at Shawhaven Farm was absolutely the best. We tried all the attractions - haunted house, wagons of fear and the dead maze. These folks are professional haunters! It was worth the money spent. I would highly recommend the haunt to those who love to spend a scary Halloween nightin MI!

| | |
| --- | --- |
| Scare Factor: | |
| Fun Factor: | |
| Haunt Value: | |

Posted November 2017

We all had a blast

If you have kids, they will have a lot of fun. I took my grandchildren and we all had a blast! I cannot even remember how many times the children jumped and screamed! They really loved the whole event. The props did a good job to entertain the people. Worth your money.

| | |
| --- | --- |
| Scare Factor: | |
| Fun Factor: | |
| Haunt Value: | |

Posted November 2017

View all Shawhaven Haunted Farm Reviews
All information on this page was submitted to Michigan Haunted Houses and was believed to be accurate at the time it was posted. Please report any inaccuracies
here
.