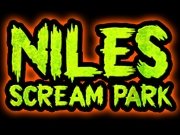 Frightful Savings!
Use promo code: MIHHBO (ONLINE ONLY!!) to save $5 off the price of a Black Out! combo ticket, which includes entry into the following attractions--The Niles Haunted House, Nuclear Nightmare, The Gruesome Gallery and the Field of Screams. One weekend only - Friday, November 5 and Saturday, November 6. Hours and details at www.haunted.org.

Niles Scream Park
855 Mayflower Rd
Niles, MI
269-687-3327

Offer valid Nov 5, 2021 through Nov 6, 2021
One Coupon per customer, per entry
Cannot be combined with other offers
Not redeemable from mobile phone
ONLINE ONLY!!