Best Maze Corn Maze & Trail of Terror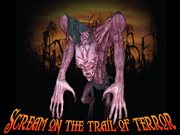 3803 Noble Road
Williamston, MI
Tired of Your Local Haunt Doing the Same Thing Year After Year; You Have Found the Right Place.
New Scenes include the Fog! Butcher Shop, Insane Asylum, Toxic!, Scarecrow Hollow…and More! and We Are Adding the Last Two Sunday Nights of October This Year! Word of Mouth Is Driving Up Demand; and We Do Not Want to Rush People Through and Will Never Conga Line You Like They Do in Big Cities! So We Are Adding Nights.
We traveled across the USA last winter to secure new props and also worked for prop makers who supply theme parks. We even have props for next year based on our ideas being built by these companies that they will sell to other haunts and theme parks. One prop maker featured on television a lot gave us first dibs on their new unveiling this year again.
THIS IS THE BEST EYE CANDY THERE IS. Can't spoil the surprises for you now with details…but it will be interactive and our best show yet of all 16 years! COMING TO OUR PLACE THIS FALL are new props from our visit to a national haunters convention we never do the same show twice! So if you are tired of your local haunt showing you the same thing year after year after year give us a tour. WE NEVER GIVE THE SAME SHOW TWO YEARS IN A ROW!!!
Starting to get the picture that this is no ordinary "farm haunt" or lame hayride where 20 strangers are crowded in with you? This is at Bestmaze. We needed a haunt worthy of equaling our mazes fame around the country and set out to do that. Becoming close friends with several of industries best scenery, prop, animatronic, & video effects helped us do that. We even hauled corn stalks this winter to a movie set in New Orleans! But all these connections is what lets us bring the best experience to you…in a corn field…on a farm in Michigan. Customers gave us the name "Bestmaze"; so we aim to keep that honor in all we do.
Email Haunt Owner
Get lost in Bestmaze Corn Maze – the one you've heard about! The premier maze in Michigan for 16 years.

Timid and afraid you will spend hours lost? We have security towers and patrols whenever you need assistance. Want help? ...just ask one of the tower assistants and they will point you in correct direction. (If they see all you are trying to do is "beat your friends through then sorry). The maze is designed to be fun!

Not typical boring block pattern of a lot of mazes, nor "the giant elegant picture" long boring path designs so common today. Our maze design is designed for your enjoyment. It throws your party back together; not sending people different directions at start so all you do is holler trying to locate each other or your lost child! Signed optional exits and shortcuts.

Trails and drainage systems designed for rain. Wheelchairs when dry.
All photos and videos within this listing are the property of Best Maze Corn Maze & Trail of Terror
Awesome place to spend Halloween weekends

I visited the maze with my friends. We took about one hour to get through. Awesome place to spend Halloween weekends. It was really a great experience. Path was clean and easy to walk which make us feel comfortable.

| | |
| --- | --- |
| Scare Factor: | |
| Fun Factor: | |
| Haunt Value: | |

Posted November 2017

1 out of 1 found this review helpful

Entertaining and scary fun

Took our son and some friends to do the regular corn maze. We all had a good time. The maze is well groomed and the hints certainly help. It took us about an hour to emerge on the other side. The Trail of Terror was also entertaining and scary fun.

| | |
| --- | --- |
| Scare Factor: | |
| Fun Factor: | |
| Haunt Value: | |

Posted November 2017

Email Verified

Trail of Terror was intense

Had a great time at Best Maze, been going every year for the past 4 years. The maze is pretty large and a lot of fun for the whole family. There are numerous signed options to assist you; so you can decide how long you want to take the tour. This year's Trail of Terror was intense. Pretty amazed by how these people change the theme ever year. Most of the actors were on point and very freaky. The combo deal for maze and trail at $20 is worth the money.

| | |
| --- | --- |
| Scare Factor: | |
| Fun Factor: | |
| Haunt Value: | |

Posted November 2017

1 out of 1 found this review helpful

Maze is very elaborate, non-scary

I went twice, once with family and once my buddies. Friday was a bit crowded but the staff handled those lines well. Saturday was the best day, with almost no waiting at all. Maze is very elaborate, non-scary and suited for the whole family. We loved getting lost and looking at all the fun it was a wonderful experience. Trail of Terror was super spooky and thrilling!

| | |
| --- | --- |
| Scare Factor: | |
| Fun Factor: | |
| Haunt Value: | |

Posted November 2017

1 out of 1 found this review helpful

Fantastic experience

Haunted tail was awesome and corn maze was fabulous. We had a blast this year. Even though the trail was not scary it was a fantastic experience. We had a great time filled with fun. Staffs are kind and friendly.

| | |
| --- | --- |
| Scare Factor: | |
| Fun Factor: | |
| Haunt Value: | |

Posted November 2017

Email Verified

Fun, but expensive

I found the corn maze to be pretty lame.. I almost walked straight through. It is fun, but expensive.

| | |
| --- | --- |
| Scare Factor: | |
| Fun Factor: | |
| Haunt Value: | |

Posted November 2017

Scary Trail of Terror

It was the best of time we spent here in the Trail of Terror. The entire haunt was so much fun and spooky. The maze was really well planned and set up and the hints were provided to us which were very helpful. The trail of terror was very scary and intense. The actors were good enough at scaring us. The props were good. A good worth of entertainment for mere $20! I will be definitely be coming back again.

| | |
| --- | --- |
| Scare Factor: | |
| Fun Factor: | |
| Haunt Value: | |

Posted October 2017

Terrifying

We took our exchange student to the maze and we were all TERRIFIED. So many Big Bads hiding in the corn :)

| | |
| --- | --- |
| Scare Factor: | |
| Fun Factor: | |
| Haunt Value: | |

Posted October 2015

2 out of 2 found this review helpful

Good Scary Fun!!!

Our annual pilgramage to the Best Maze Corn Maze and Trail of Terror did not disappoint . The Trail of Terror, has many scares, animatronics, is dimly lit with flashing lights and amidst ghosts, goblins and ghouls. It was GREAT fun! The Corn Maze is huge and changes every year. Great fun for the kids.!! A GREAT way to help support Michigan farmers.

| | |
| --- | --- |
| Scare Factor: | |
| Fun Factor: | |
| Haunt Value: | |

Posted October 2015

4 out of 4 found this review helpful

Hope to see everyone year after year

I read the comments from you mortal's so glad you like the Trail of Terror hope to see you back again next year and every year after that. I get a personal invite every year and fly in on my broom to greet and harvest everyone. The Resident Witch

Posted October 2014

Best

Best time I've ever had two years in a row thank you for the great Time

Posted October 2014

1 out of 1 found this review helpful

I am the owner. Pretty amazed at one comment. For an outdoor haunt we do hold our own when people compare us to other haunts. We purposely dump the exit from our haunt right next to exit from our non haunted maze (and our maze lS THE MAZE for central Michigan bar none with groomed trails and towers, drainage system etc.) because the people raving about upon exiting sell tickets to those who were only going to do one event. We are one of the few who rotate 50% of props every year with other haunts around the country. MANY do the same show every year. We have a dedicated crew of some 20 people back every year who get instruction on acting and movement. We help owners of haunted house animatronic companies set up for the national haunters convention SO WE GET FIRST DIBS ont the best props of the year wheter it is a new video projection system or the baddest $14,000 monster. So..you heard it from the owner. And YES there are haunters that bad mouth other haunts. Check out jackson Underworld in jackson Mi...they hear all the time how good we are. And because of that our two haunts now collaborate with prop trades etc. Same with Realm of Darkness in Pontiac. Zioptis (haunt rating) has been here and loved it.

Posted August 2014

3 out of 3 found this review helpful
All information on this page was submitted to Michigan Haunted Houses and was believed to be accurate at the time it was posted. Please report any inaccuracies
here
.