Eloise Asylum - Real Haunted Place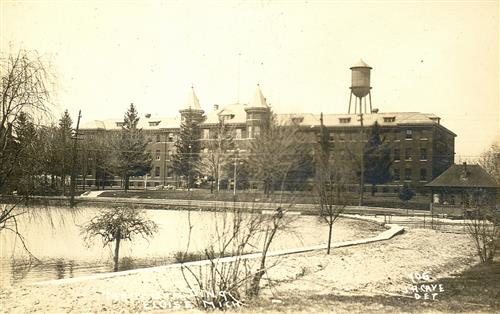 30712 Michigan Ave.
Westland, MI
Details
Average Review

Listing Categories
The Eloise Asylum was also known as the Wayne County Poor House, an 1830's poorhouse that later on became a hospital that featured a cemetery with over 7,000 graves. The hospital stopped business in 1984 and its ruins are believed to be haunted. Witnesses have reported apparitions, often a woman wearing white, moans, screams and roars. Today, the site where the hospital once stood has been transformed into a strip mall, a golf course, and condominiums.
Mouse over photos to see photo credits.
Amazing experience

There was definitely alot of spirits here. I did not experience anything bad. I had a few touches on my arm and neck. There was a girl name sophie, who spoke to us alot. She said she was the chaplain's daughter. She even played with us for a while. She turned on our light box, and made it change colors for quite a while. She set of the alarm box when she left. She kept saying rabbit, and there was a rabbit in the cradle. My brother in law was walking the hallway with the prit box alone, and on the infra red camera we captured a full formed body wall across the hallway behind him. It was a really fun experience, and we will definitely go back again. Big thanks to Jim for keeping us safe, and Tom for his experience and information. Tom knows his stuff, and he sure made it fun.

Posted 8/30/21

D building and Walter P Reuther.

Worked in both buildings from 1978 until 2006. Never encountered anything like what has been talked about here. Walked the grounds on all 3 shifts. Been in all the tunnels even the ones now buried. Walter Reuther was never at the corner of michigan ave and merriman rd. It was built next to the Wayne County General hospital and across the road from N building (commonly to the pogies house Pogies the name given to its residents stands for poor old guys in eloise.

Posted 12/16/20

0 out of 1 found this review helpful

Worth the Experience

Take the paranormal tour, you will vet you scares and moneys worth, but you have to participate in the activities! 5th Floor for the criminally insane; had a door close on us, used spirit boxes to communicate (crazy exoerience).

Posted 11/30/20

1 out of 1 found this review helpful

Eloise & Walter Reuther Hospital

I believe the previous posters are talking about 2 different places. One is Eloise, that is in the picture, that looks like it was taken from Hines Drive. That's the way we got in back in the 1980's. The other place is Walter Reuther Hospital that used to be at the corner of Michigan Avenue and Merriman. I worked maintenance there for a while back around 87 or so. Creepy place to work.

Posted 6/6/20

absolutely haunted

The main buildings for this location have been torn down. (in the late 90's I believe) there are a few administrative buildings left across the street on Michigan Ave, I'm not sure if they're used for anything now other than ghost tours. The land where the main hospital was is just a huge empty fenced in field. (model airplane clubs do fly their planes there) it's very weird because there are apartments and a church on the other side of the road. None of these are built on the property though. Anyway, I've been to this area MANY times over the years and just driving down the street the main hospital was on is really eerie. Even on the sunniest days. There is a cemetery right next to where the hospital was called "William Gangong cemetery" and it's one of the most haunted places I've ever been. Some patients from Eloise are buried within the cemetery fences, but there's also thousands of unmarked graves or graves with just numbers on them, on the eloise property, right next to the fence line. I've been here during the day and at night. I'm very sensitive and have felt like people are following me as i walk around, I've felt like people are staring at me and I've also felt so sick to my stomach and light headed, just driving into the cemetery that I can't get out of the car. I took a picture on my phone one day and got a silhouette of what looks like a war veteran walking. you can see the helmet and straps. I've also gotten pictures of orbs at night when visiting. The worst part of the cemetery is the back right hand corner along the fence line. It always always seems like there's someone standing there, but when I turn around, expecting to see the person I'm there with or an animal, there's nothing. I have also heard strange sounds coming from the woods outside of the cemetery fence (where the unmarked graves are said to be). Very very creepy place. The buildings that are still standing, the administrative buildings are just as creepy. a lot of the windows are broken and when you walk around the perimeter of the building you hear weird sounds coming from inside. The only way I can think to explain it, is the sounds are very unnatural. There's a bridge area behind one of the buildings and my friend went back there while I was walking a different way and came running back out, white as a ghost. She said she saw something in the corner of her eye and it seemed to be coming toward her, but when she looked in the direction it came from, it was gone. I highly recommend anyone interested in the paranormal or investigating, to check these places out, they're seriously haunted!

Posted 5/6/19

5 out of 5 found this review helpful

Once upon a time...

The poster up top is incorrect. When it was up and running, Eloise took up a massive area on both sides of Michigan Ave. It included farms, laundered, fire department, all sorts of things needed to help with the main buildings upkeep and make it self sufficient. Most of the outbuildings have been sold off, torn down and replaced with the usual filler businesses. I went into the large building back in 1989 before it was torn down, it used to stand slightly in front and staggered to the side of the Wayne County record building that person is referring to that still stands today. I didn't experience anything strange during our overnight exploration, but it was creepy and eerie and sad walking through the hallways and rooms.

Posted 5/3/17

3 out of 3 found this review helpful

not true

The building is still standing and is now property of Wayne county. It's an office building. I live in the area. There is no strip mall, golf course ir condos anywhere around the area.

Posted 8/22/16

4 out of 9 found this review helpful

What i experienced while staying in the shelter on Eloise property

Back in Dec 2010 to march 2011 my kids and i stayed at the family shelter located next to Eloise in one of the old buildings. I've seen things in the window's of Eloise the top two floors. Things pass by the window or dim lights flashing. Also the shelter i had a few things happen to me. One afternoon i walked into my room my kids were gone at daycare n school. But as i got to my bed my sons soccer ball rolled out from under his bed curved a little n stopped before it got to me. I tried making it happen again but it wouldn't. The other thing was one night around 9pm the grown-ups have chores to do. So all kids have to go to sleep n cant come outta their rooms well my chore was bleaching the toilets n stalls in the womens bathroom. One night i walked in the bathroom and seen the door of the first stall was shut so i said time to finish up n go in your rooms so i can start my chore. After i said that the stall door opened slowly and stopped no one came out so i walked over opened it all the way n no one was there. I was completely alone. I left that bathroom so fast n didnt go back in until the other two girls who did bathroom cleaning came in. I would tell the maintenance men these things n what other families told me about hearing kids running n laughing at 2 n 3am in their rooms. N the maintenance guys said they believe it cause they had things happen to them while they are in the basement like the radio turning on n off by itself knocking on the delivery door n when they open it theres nothing there. My friends daughter who was around maybe 4 yrs old use to talk to a lady in her window at night. N when we asked what she looked like she said shes a nurse in all white. Creepy but cool to experience these thing's.

Posted 6/14/16

10 out of 10 found this review helpful

Creepy

I went to the last few buildings left standing. An administrative building, I believe. We basically wandered around on the property in the middle of the night. It just had a very eerie vibe. We heard crying but couldn't pinpoint where it was coming from. Tried to find the graveyard but we got lost. Not much left standing but very amazing to see in person.

Posted 6/14/16

4 out of 4 found this review helpful

My Eloise experience.

I explored Eloise in the 80's and it was one of the creepiest places I have ever explored. On one occasion I was " touched" on my back and I also heard low inaudible voices numerous times. The tunnels, I must warn you are dangerous. Rumor had it at the time that when the asylum was shut down several patients proceeded to live in the tunnels rather than be put on the street. I can't say what I experienced were "patients", but I came across unstable people while in the tunnels. One stands out to me to this day. I heard very faint laughs one time while in the tunnels. My flashlight went dark for what seemed like hours, but in reality were seconds. When it came back on I could make out a shape just outside the reach of the light. The closer I got, the shape would still be just out of the lights reach. I started to feel as though I was being led further into the labyrinth of tunnels so I decided to turn around. The faint laughs returned as I was retreating, and upon turning around with " that feeling" somebody was following me, there was indeed somebody there. This man was laughing in a low tone, and had madness in his eyes. He never rushed towards me, just stayed about fifteen feet behind me until I reached the place where I entered. When I turned to get one last look he was gone. Was he a patient? Maybe just homeless? I don't know to this day, but will never forget the man in the tunnel.

Posted 6/14/16

10 out of 10 found this review helpful
Share Your Experience or Comments - Eloise Asylum
Real Haunt Listing Info
Visitors to this page: 27,829
Clicks to Website: 2,125
Last edit to this listing: 4/21/2016 (1976 days ago)

Disclaimer: Michigan Haunted Houses does not endorse or support trespassing to visit real haunts. Before you visit ANY local real haunt, make sure to acquire the appropriate permits and/or permissions, and be respectful of privately owned properties. Countless Haunt Hunters have been arrested, ticketed, and reprimanded by the authorities for trespassing. To avoid this, be sure to get in touch with the property owners before visiting a haunt, and respect their hours of operation, local regulations, and rules for visiting at all times. Happy haunting!
All information on this page was submitted to Michigan Haunted Houses and was believed to be accurate at the time it was posted. Please report any inaccuracies
here
.